Project seminar: Motivation to Grow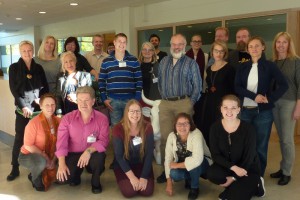 In September 30 to October 2,  the second seminar in Motivation to Grow was held in Stockholm.
Motivation to Grow is a project, which main goal is to  build a thematic network between adult study organizations in the Nordic and Baltic countries. The main theme is young-drop outs, and how to motivate and include this group in education and working life. Please find out more about the project and participating organizations on the project web site:  www.motivationtogrow.org.  A report from the seminar will be posted on this site within short time.
Tag del av nedanstående för information om projektet
"MOTIVATION TO GROW":
Web site:   www.motivationtogrow.org
and
MOTIVATION TO GROW information about the project
Program objectives
Building a cross sectorial thematic network to present and identify best ideas, practices and research of literature. We will create three physical professional guided workshops including tools for professional guided collegial sparring in thematic module groups, in order to motivate and catalyze working identity in cooperation with the labor market. We will also have a digital meeting once a month working together with our tasks. Results and outcomes from the project will be posted on this  website: www.motivationtogrow.org